MEDIA ADVISORY
February 18, 2013
To: Reporters, editors, producers; assignment desks
From: Dennis O'Shea
dro@jhu.edu | 443-287-9960 (o)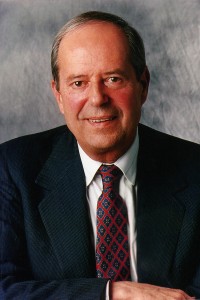 WHAT: A memorial service for Steven Muller, president emeritus of The Johns Hopkins University.
WHEN: Friday, Feb. 22, 3:30 p.m.-5 p.m.
WHERE: The Peabody Institute's Miriam A. Friedberg Concert Hall, entrance at 17 E. Mount Vernon Place, Baltimore.
DETAILS: Speakers will include current Johns Hopkins President Ronald J. Daniels; Sen. Barbara Mikulski, D-Md.; Frank Mankiewicz, Muller's UCLA roommate, George McGovern's 1972 campaign manager and former president of National Public Radio; Peter Fischer-Appelt, president emeritus of the University of Hamburg; and Muller's two daughters, Julie M. Mitchell of San Francisco and Elizabeth M. Casparian of Princeton, N.J.
The public is invited. A reception will follow in the George Peabody Library, adjacent to Friedberg Concert Hall.
BACKGROUND: Muller died Jan. 19. [Obituary. ] He was president of The Johns Hopkins University from February 1972 to June 1990, second only in tenure to founding president Daniel Coit Gilman. He also served for about a decade as the president of The Johns Hopkins Hospital.
He affiliated the university with the Peabody Institute, a move that preserved the then-ailing music conservatory and eventually made it one of Johns Hopkins' nine schools. He established the School of Nursing for the first time as a standalone division of the university and re-established the School of Engineering as a separate school.
Muller was instrumental in bringing the Space Telescope Science Institute to Baltimore, ensuring that science operations for the Hubble Space Telescope would be controlled here. With insight into China's future as a global power, he in 1986 established the Johns Hopkins-Nanjing University Center for Chinese and American Studies. On Muller's watch, the university also established the American Institute for Contemporary German Studies, the Krieger Mind-Brain Institute and academic centers for part-time students in Baltimore, in Montgomery County, Md., and at the Applied Physics Laboratory.
Muller also was a leader in the expansion and modernization of what is now the Johns Hopkins Bayview Medical Center campus following Johns Hopkins' acquisition of the old City Hospitals from Baltimore City.
Muller led two highly successful fundraising efforts: the Hopkins Hundreds Campaign, which raised more than $109 million for the university and hospital between 1973 and 1976; and the Campaign for Johns Hopkins later in his tenure, which brought in more than $600 million, well exceeding its $450 million goal.
Links to additional information about Muller are here.
###