MEDIA ADVISORY
March 7, 2014
To: Reporters, producers, booking and assignment desks
From: Dennis O'Shea
dro@jhu.edu | 443-997-9912 (o) | 410-499-7460 (m)
WHAT: The Johns Hopkins University now has a fully equipped studio available for television and radio interviews. We are happy to provide you with a high-quality connection to Johns Hopkins faculty experts, researchers and students.
WHERE: The university's Office of Communications at the Johns Hopkins at Keswick complex near the Homewood campus. The address is 3910 Keswick Rd. in Baltimore.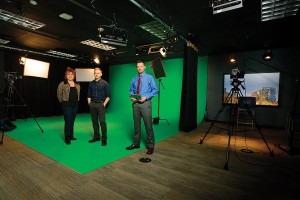 SPECS: The studio transmits live video via Vyvx. (Be sure to ask for "Johns Hopkins University," not "Johns Hopkins Hospital.") Our circuit number is 38TBGS100042MD. We feed video at HD-SDI 720p.
The studio also transmits live audio for radio broadcasts via ISDN. ISDN numbers (SPIDS) are 410-467-0260 and 410-467-0261. The standard signal codec is MPEG-1 Audio Layer II. Other codecs can be arranged in advance, as needed.

TO BOOK AN INTERVIEW: If you have already contacted your interviewee, you can book the studio by contacting 443-997-0170 (main), 443-997-6136 (studio), or video@jhu.edu. Outside regular business hours, contact the on-call media relations representative, whose phone number will be available at 443-997-9009.
If you are looking for an expert, contact the media relations office at 443-997-9009 and ask to speak with the media representative covering your area of interest. (If your topic is covered by another communications office at Johns Hopkins, we can refer you there.)

OTHER DETAILS: We are happy to facilitate interviews with experts from any Johns Hopkins campus. Free visitor parking is available to them at Johns Hopkins at Keswick. Enter at the corner of Keswick Road and Craycombe Avenue and proceed to the top of the hill.
The studio does not currently accept outside bookings and is only available for guests affiliated with the Johns Hopkins University or Johns Hopkins Medicine.
Johns Hopkins does not charge a studio fee for live or taped interviews with university experts, faculty, staff or students. In most cases, the requesting media will book Vyvx time directly from the provider and incur any appropriate charges.
###