Aug. 20, 2014
CONTACT: Jill Rosen
Office: 443-997-9906
Cell: 443-547-8805
jrosen@jhu.edu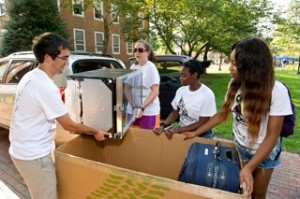 A flying trapeze artist. The winner of Delaware's Young Playwrights Festival three years running. A competitor on "The Biggest Loser" who's now dedicated to fighting obesity. The creator of an app for cancer patients. A professional skateboarder who writes a food blog. The teacher of a free robotics course for special needs students.
These dynamic students are among Johns Hopkins University's incoming freshman class who will be moving onto campus this week.
WHAT:  Move-in day for Johns Hopkins University's freshmen. Over two days, hundreds of students arrive in Baltimore and start getting to know the Homewood campus that will be home for at least the next four years.
WHEN: 8 a.m. to 3 p.m., Friday and Saturday, Aug. 22, 23.
HOW: Students and their families will drive onto campus where orientation staff members will help them check-in. Upper-classmen volunteers will help families unload their cars and bring the new students' belongings into their dorm rooms.
Fast Facts about JHU's Class of 2018 (as of Aug. 5):
Total freshman enrollment: 1,418
Number of freshman applicants: 23,877
Number of freshmen admitted: 3,587
Percent Male: 51
Percent Female: 49
Number underrepresented minority students: 299
Percent in Krieger School of Arts and Sciences: 65
Percent in Whiting School of Engineering: 35
Number early decision: 526
Top five states they come from: New York, California, New Jersey, Maryland, Pennsylvania.
Top five countries other than U.S. they come from: China, Canada, Republic of Korea, India, United Kingdom.
Middle 50th percent SAT I combined score: 2120-2310
Mean unweighted academic GPA: 3.88
Among the class of 2018 are 14 Baltimore Scholars, graduates of Baltimore City public schools accepted into the university's undergraduate programs who receive full-tuition scholarships.
To attend move-in day on the Homewood campus or if you have questions about the Class of 2017, please contact Jill Rosen at 443-287-9960, 443-547-8805 or jrosen@jhu.edu.
###
Johns Hopkins University news releases are available online, as is information for reporters. Find more Johns Hopkins stories on the Hub.