Media Advisory
May 1, 2015
CONTACT: Dennis O'Shea
Office: 443-997-9912 / Cell: 410-499-7460 / dro@jhu.edu
Tracey Reeves
Cell: 443-986-4053 / treeves@jhu.edu
Johns Hopkins Alumni, Students, Employees to Join in Day of Service to Baltimore
What: The third annual Johns Hopkins in Action day of service to Baltimore.
Details: About 380 Johns Hopkins alumni, students, parents and employees and their relatives and friends are volunteering for Baltimore City at 10 sites on Saturday, May 2.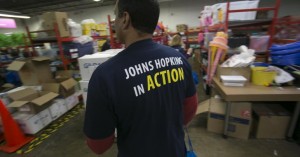 Why: Johns Hopkins in Action days are a community service component of Rising to the Challenge: The Campaign for Johns Hopkins. This is the third annual event, scheduled well before the arrest of Freddie Gray, but recent events have sparked additional interest (more than 50 new volunteers since Monday).
Where: Among the sites where volunteers will be working Saturday:
— Choice Program Recreation Garden; 1327 Homewood Ave. Johns Hopkins volunteers will work alongside Civic Works urban service corps volunteers who are transforming vacant lots into community gardens. 1 p.m.-4 p.m., 16 volunteers, lead volunteer Elise-Christelle Woappi, an annual giving coordinator.
–Middle Branch Park, 3301 Waterview Ave. Johns Hopkins volunteers will work with Parks and People Foundation to plant trees. 1 p.m.-4 p.m., 17 volunteers, lead volunteer Chanel Newsome, a School of Nursing development officer.
—People's Homesteading Group community garden, meet at 2114 Greenmount Ave. Johns Hopkins volunteers will be doing landscaping and litter removal. 9 a.m.-12 noon, 50 volunteers, lead volunteer Lindsay Esposito, a School of Arts and Sciences development associate.
Organizer contacts: Fiona Newton, director of donor and volunteer engagement; Bre Stifler, associate director of donor and volunteer engagement; Michelle McLaughlin, assistant director of principal gifts.
 ###
Johns Hopkins University news releases are available online, as is information for reporters. Find more Johns Hopkins stories on the Hub.