Nov. 10, 2016
CONTACT: Jill Rosen
Office: 443-997-9906
Cell: 443-547-8805
jrosen@jhu.edu @JHUmediareps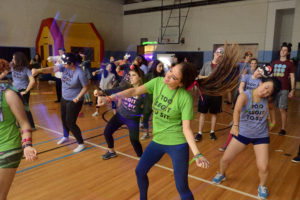 WHEN: 4 p.m. to 12 a.m. Saturday Nov. 12.
WHERE: Johns Hopkins University's Glass Pavilion at Levering Hall, 3400 N. Charles St.
WHAT: About 150 Johns Hopkins students are expected to dance all night to raise money to help sick and injured children. Money raised will help support a weekend child life specialist at the Johns Hopkins Children's Center.
The Johns Hopkins Dance Marathon is part of the Miracle Network Dance Marathon program, a nationwide movement that raises funds for local Children's Miracle Network hospitals
ON-SITE CONTACT: Julie Riddle, 813-545-4894 (cell).
###
Johns Hopkins University news releases are available online, as is information for reporters. To arrange a video or audio interview with a Johns Hopkins expert, contact a media representative listed above or visit our studio web page. Find more Johns Hopkins stories on the Hub.