December 7, 2016
FOR IMMEDIATE RELEASE
CONTACT: Dennis O'Shea
Office: 443-997-9912 / Cell: 410-499-7460
@JHUmediareps
The Johns Hopkins University led U.S. universities in research and development spending for the 37th straight year in fiscal 2015, putting a record $2.306 billion into projects to cure disease, promote human health, advance technology and expand knowledge of the universe and ourselves.
That total R&D expenditure in 2015, the most recent fiscal year for which nationwide data is available, was 2.8 percent larger than Johns Hopkins' research spending in 2014, according to the recently released annual National Science Foundation report on institutional R&D.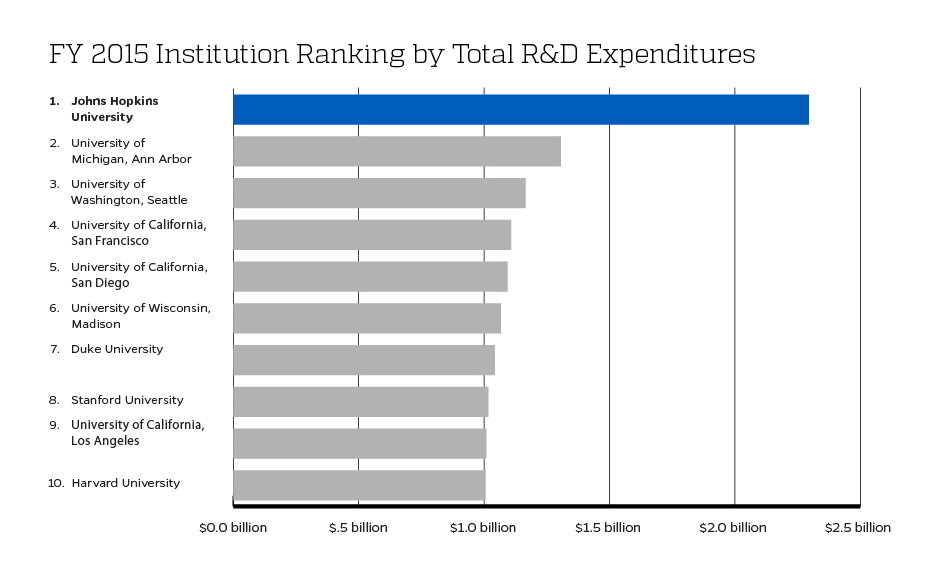 The University of Michigan again ranked second in total R&D with $1.369 billion spent. Rounding out the top five were the University of Washington, Seattle, at $1.181 billion, the University of California, San Francisco, at $1.127 billion, and the University of California, San Diego, at $1.101 billion.
The NSF also again ranked Johns Hopkins first on its separate report on research expenditures that were paid for with federal dollars. The university spent $1.993 billion in 2015 – also a record and up 2.2 percent – on projects that were sponsored by NSF, the National Institutes of Health, NASA, the Defense Department and other federal agencies.
Federally sponsored research expenditure at Johns Hopkins grew last year (from $1.950 billion in 2014) even though the total of R&D backed by the federal government at all U.S. universities fell for the fourth straight year.
"Johns Hopkins researchers have more than held their own. They continue to win federal support for work that produces critical new knowledge," said Denis Wirtz, the university's vice provost for research and a professor of chemical and biomolecular engineering, pathology and oncology.
"Whether in health or engineering, the sciences, social sciences or humanities, the knowledge generated here ultimately benefits all of humankind," Wirtz said. "We're proud at the same time to be supporting the economy in Baltimore and Maryland by doing so much of this work in our home city and state."
At Johns Hopkins, research and development money supports investigations into everything from what put the brakes on the universe's star-making machinery  to why bats waggle their heads. So far this year, Johns Hopkins scientists and engineers have also reported finding that Pluto emits X-rays, experimented with using light rather than electric shocks to slow runaway heartbeats, explained why women athletes are more likely to suffer ACL damage, found existing drugs that may work against Zika, and had remarkable success in tests of a one-dose vaccine for the world's most prevalent mosquito-borne disease .
Johns Hopkins has led the NSF's total research expenditure ranking each year since 1979, when the agency's methodology changed to include spending by the university's Applied Physics Laboratory – a research-focused division based in Howard County – in the university's totals. APL reported $1.328 billion in total R&D expenditures in FY 2015, $1.283 billion of that federally funded.
In fiscal year 2002, Johns Hopkins became the first university to reach the $1 billion mark on both the total and federal R&D spending lists, recording $1.4 billion in total research and $1 billion in federally sponsored work that year. The total funding ranking includes research support not only from federal agencies, but also from the state, foundations, corporations and other sources.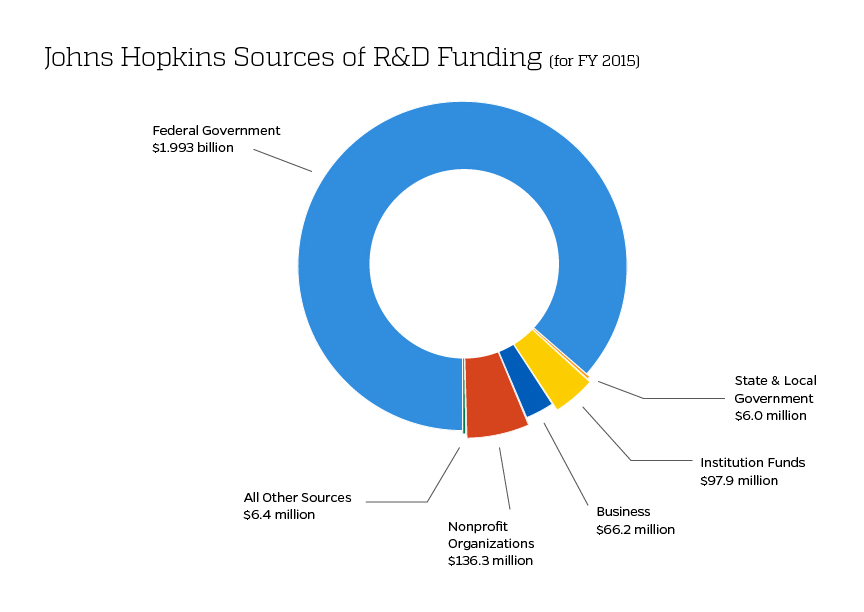 Johns Hopkins research is also supported by the return on investment made in past discoveries. In fiscal 2015, Johns Hopkins reported earning $17.9 million by licensing patented technology, a figure that more than tripled to $58 million in 2016. The university also spun off 16 new companies and received 112 new patents in 2015, figures that increased to 22 and 153 in the most recent fiscal year.
The largest components of Johns Hopkins R&D spending in fiscal 2015 were in the fields of engineering, at $992 million, and the life sciences, at almost $868 million.
Looking at all U.S. colleges and universities – 905 were included in the survey – total research spending in 2015 rose slightly, to $68.808 billion in fiscal 2015 from $67.351 billion in 2014. The portion that came from federal agencies fell, however, for the fourth straight year to $37.877 billion, dipping just 0.22 percent from 2014 but nearly 7.1 percent since 2011. When adjusted for inflation, the NSF reported, federal support for university science has fallen 13 percent in that time.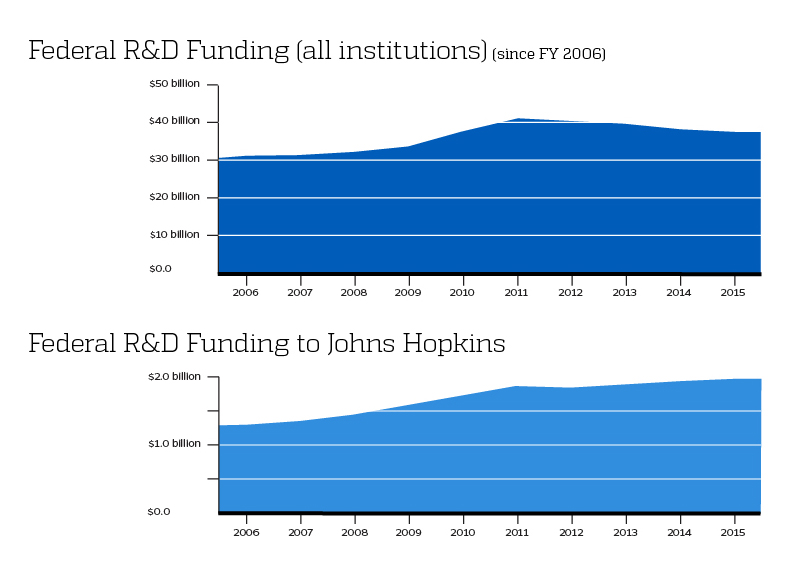 Johns Hopkins President Ronald J. Daniels has argued that declines in federal research funding are particularly hard on young scientists, preventing many from getting support they need to kick off productive careers. The National Academies of Sciences, Engineering, and Medicine announced this week that Daniels will chair a study, commissioned by Congress, on the "next generation of researchers" problem.
The fiscal year 2015 NSF survey results and links to related data tables are available online.
###