Jan. 17, 2017
CONTACT: Jill Rosen
Office: 443-997-9906
Cell: 443-547-8805
jrosen@jhu.edu @JHUmediareps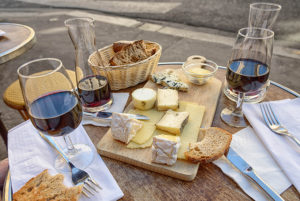 WHAT: Beer, wine and cheese are classic party foods that couldn't be made without fermentation. Fermentation is also the key behind food trends like pickling and the tea drink kombucha. In a one-credit intersession course, Johns Hopkins University undergraduates will learn the chemistry behind this biological process, science that will help them understand when they should send back a bottle of wine, what sets a stout apart from a lager, and why some cheeses ooze while others crumble.
During the two-week course, students will learn what aroma reveals about wine; examine the role temperature plays in the making of fresh mozzarella cheese and experiment with unfermented beer.
WHEN: There are several chances to visit the class over the next two weeks, the best being Friday Jan. 20 when the class works with wine; Tuesday Jan. 24 for the fresh cheese demo; and Wednesday Jan. 25 when they will work with unfermented beer. The classes run 1 to 3:15 p.m. each day, but optimal time to visit is at the beginning of class.
WHERE: Remsen Hall, classroom 140.
BACKGROUND: Intersession at Johns Hopkins happens every year for about three weeks in January before regular classes resume. It allows undergraduate students and faculty a chance to explore topics outside of their field or major. Some students study abroad, others beef up on core skills, while others sign up for fun personal enrichment courses.
Members of the media who expect to cover this event should RSVP to Jill Rosen at 443-997-9906 or jrosen@jhu.edu.
###
Johns Hopkins University news releases are available online, as is information for reporters. To arrange a video or audio interview with a Johns Hopkins expert, contact a media representative listed above or visit our studio web page. Find more Johns Hopkins stories on the Hub.