March 17, 2017
FOR IMMEDIATE RELEASE
CONTACT: Jill Rosen
Office: 443-997-9906
Cell: 443-547-8805
jrosen@jhu.edu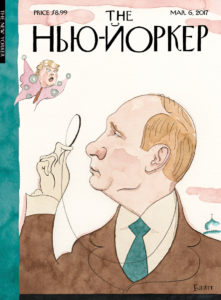 Award-winning cartoonist and illustrator Barry Blitt will speak Monday April 3 at Johns Hopkins University.
Blitt's presentation, called "In One Eye and Out the Other," starts at 5:30 p.m. in Room 101 of the F. Ross Jones Building, Mattin Center, on the Homewood campus at 3400 N. Charles St. Admission is free and open to the public.
Since 1992, Blitt has created illustrations and drawn more than 80 covers for The New Yorker, including "Deluged," which in 2006 was voted Cover of the Year by the American Society of Magazine Editors, and "The Politics of Fear," a finalist for the same award in 2009. His work has also appeared in Vanity Fair, Time, Rolling Stone, and The Atlantic. From 2003-2011, he illustrated Frank Rich's column in The New York Times.
Blitt has been honored with exhibitions and awards from the Society of Illustrators, Print, and American Illustration, and is a member of the Art Directors Club Hall of Fame. He has also illustrated numerous children's books, notably Once Upon a Time, the End (Asleep in 60 Seconds) and George Washington's Birthday: A Mostly True Tall Tale. He lives and works in Roxbury, Conn.
To download images of Blitt's work: http://krieger.jhu.edu/visualarts/2017/03/10/in-one-eye-and-out-the-other-a-slide-talk-by-barry-blitt/
Blitt's appearance is co-sponsored by the Center for Visual Arts and Homewood Arts Programs.
###
Johns Hopkins University news releases are available online, as is information for reporters. To arrange a video or audio interview with a Johns Hopkins expert, contact a media representative listed above or visit our studio web page. Find more Johns Hopkins stories on the Hub.