August 23, 2017
CONTACT: Jill Rosen
Office: 443-997-9906
Cell: 443-547-8805
jrosen@jhu.edu  @JHUmediareps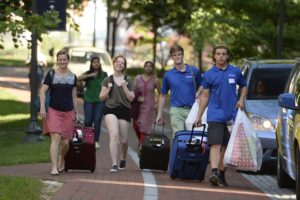 Johns Hopkins University's newest class of students arrives in Baltimore this week. A highlight for these students will be Baltimore Day, a chance to get to know the city they'll call home over the next four years.
WHAT:  Move-in day for Johns Hopkins University's Class of 2021. Over two days, hundreds of students arrive in Baltimore and settle into their residence halls on the Homewood campus.
During Baltimore Day, the students will break into small groups and head off to explore various city attractions. Places they'll visit include Camden Yards, Station North, Fort McHenry and the Lewis Museum of Maryland African American History and Culture. There will be activities and discussions at each location, led by either a faculty member or a community representative. For instance, in Little Italy, Laura Di Bianco, assistant professor of Italian studies, will talk about the Italian immigrant experience and culture in Baltimore.
At the end of the day, the class returns to campus for a Baltimore-themed picnic including crabcakes, pit beef, Utz chips and local corn with Old Bay butter.
WHEN: Move-in is 8 a.m. to 2 p.m., Friday and Saturday, Aug. 24, 25. Baltimore Day is Sunday, Aug. 27, starting at 10 a.m. with presentations and then running through the afternoon.
HOW: During move-in, students and their families will drive onto campus where orientation staff members will help them check in. Returning student volunteers will help families unload their cars and bring the new students' belongings into their dorm rooms.
During Baltimore Day, the class will hear presentations about experiencing Baltimore beyond campus and how to get around the city using public transportation. In the early afternoon they'll head to various neighborhoods, then come back to campus later for the picnic.
Fast Facts about JHU's Class of 2021 (as of Aug. 13):
Total enrolled: 1,349
Number applicants: 26,578
Male: 49 percent
Female: 51 percent
1st generation students: 10 percent
Top 10 percent of their graduating class: 93 percent
Asian – 33 percent
Caucasian – 30 percent
Hispanic – 15 percent
Black – 11 percent
Native American – 1 percent
International – 7.3 percent
Krieger School of Arts and Sciences: 70 percent
Whiting School of Engineering: 30 percent
Student's home closest to campus: 2 miles (Baltimore)
Student's home farthest from campus: 9,280 miles (New South Wales, Australia)
Students from 46 states and Washington, D.C.
Students from 33 countries, including the U.S.
Top non-U.S. countries: China, Korea, Canada, India
Middle 50th percent SAT I combined score: 1480-1560
Middle 50th percent academic GPA (adjusted for a 4.0 scale): 3.91
To attend move-in day or Baltimore Day or if you have questions about the events, please contact Jill Rosen at 443-287-9960, 443-547-8805 or jrosen@jhu.edu.
###
Johns Hopkins University news releases are available online, as is information for reporters. To arrange a video or audio interview with a Johns Hopkins expert, contact a media representative listed above or visit our studio web page. Find more Johns Hopkins stories on the Hub.