Feb. 15, 2019
FOR IMMEDIATE RELEASE
CONTACT: Karen Lancaster
Cell: 240-370-9319
klancaster@jhu.edu @JHUmediareps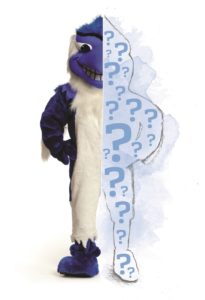 WHAT: The Johns Hopkins University's Blue Jay mascot will debut a new look during a dramatic reveal Saturday at halftime of the men's lacrosse home opener.  With a nod to Hopkins' excellence in the fields of science and health, "Jay's" makeover reflects his efforts to improve his personal fitness while also exhibiting more scientifically and anatomically correct attributes for his species.
With the first changes to his look since 2013, the new Jay will represent the Hopkins spirit at athletic events and out in the community.
His transformation is the result of a committed, disciplined regimen which began in July 2017 under the professional guidance of personal trainer and university senior designer Kenny Carter.
Jay will be available for media interviews after his debut.  He prefers "yes" or "no" questions or those can be answered with natural bird gestures.
WHEN: Saturday Feb. 16. Halftime of the men's lacrosse game, which starts at 2 p.m.
WHERE: Homewood Field, Johns Hopkins campus.
TO ATTEND or for more information: Contact Karen Lancaster, klancaster@jhu.edu.
###
Johns Hopkins University news releases are available online, as is information for reporters. To arrange a video or audio interview with a Johns Hopkins expert, contact a media representative listed above or visit our studio web page. Find more Johns Hopkins stories on the Hub.