March 15, 2019
CONTACT: Amy Mulvihill
Office: 410-516-2882
Cell: 860-671-0917
amulvihill@jhu.edu
Lori Beth Finkelstein has been appointed the new Philip Franklin Wagley Director and Curator of Evergreen Museum & Library. She will begin on March 18.
"Dr. Finkelstein's extensive experience as an educator, historian, and administrator in Baltimore and beyond makes her the perfect fit for Evergreen," said Winston Tabb, Sheridan Dean of University Libraries, Archives and Museums.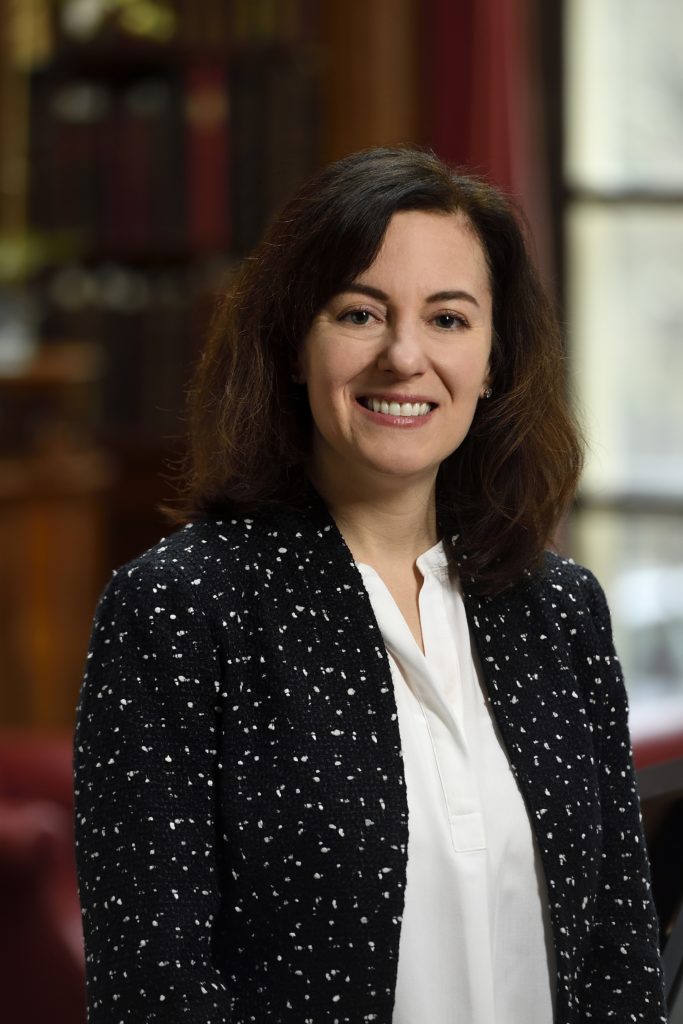 Dr. Finkelstein comes to Evergreen from the Maryland Zoo in Baltimore, where she has served as the Vice President of Education, Interpretation, and Volunteer Programs since 2010. Prior to that, she spent four years as the Director of Education & Interpretation at the Baltimore Museum of Industry. She began her career in 2000 as a museum educator, and subsequently worked as curator of the Museum of Early Trades & Crafts in Madison, NJ, and the Director of Education & Interpretation at Mt. Vernon Hotel Museum & Garden in New York City.
"I am thrilled to be named the new Philip Franklin Wagley Director and Curator of Evergreen Museum & Library," said Finkelstein. "Evergreen is a true cultural gem in Baltimore, and I am looking forward to further strengthening the museum's connections to the University and Baltimore, and to introducing the museum to new visitors who might not be aware of its rich history and splendid collections."  
Throughout her career in museums, Dr. Finkelstein has kept one foot in the classroom. She has taught three courses for Johns Hopkins' undergraduate Program in Museums and Society and provided curricular support for the university's online Master of Arts Program in Museum Studies. In addition, she has taught courses as an adjunct professor at Stevenson University and Seton Hall University.
Dr. Finkelstein received both her M.A. and her Ph.D. in U.S. History from New York University, and earned her B.A. in North American Studies from McGill University in Montreal, Canada. She currently serves as a member of the Education Advisory Committee at the Maryland Historical Society and as a board member of the Friends of Maryland's Olmsted Parks and Landscapes.
About Evergreen Museum & Library
Evergreen Museum & Library's permanent collection consists of more than 20,000 works of art assembled by Baltimore's Garrett family, including post-Impressionist paintings, masterworks of decorative art, Chinese porcelain, Japanese lacquer ware, and one of the largest private collections of Tiffany glass. Evergreen is also home to the John Work Garrett Library, which houses more than 8,000 volumes of rare books and manuscripts. The museum welcomes members of the public to interact with its collections through exhibitions, lectures, concerts, symposia, galas, workshops, and an artist-in-residence program.
The museum is open for guided tours on the hour 11 a.m. to 4 p.m. Tuesday through Friday, and 12 to 4 p.m. Saturday and Sunday (last tour at 3 p.m.). It is located at 4545 N. Charles Street, Baltimore, MD 21210. For general information, the public may call 410-516-0341 or visit www.museums.jhu.edu.
###
Johns Hopkins University news releases are available online, as is information for reporters. To arrange a video or audio interview with a Johns Hopkins expert, contact a media representative listed above or visit our studio web page. Find more Johns Hopkins stories on the Hub.