Dec. 20, 2019
CONTACT: Jill Rosen
Office: 443-997-9906
Cell: 443-547-8805
jrosen@jhu.edu @JHUmediareps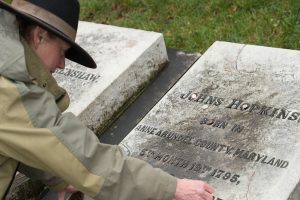 DETAILS: Johns Hopkins employees, alumni, students and friends will attend the annual Christmas Eve graveside observance honoring the founder of the university and health system, Mr. Johns Hopkins.
The brief ceremony will take place at his grave in Green Mount Cemetery in Baltimore at 10 a.m. on Tuesday, Dec. 24. That will be the 146th anniversary of Mr. Hopkins' death.
The 21st consecutive annual observance will be led by university Vice President and Secretary Emeritus Ross Jones. It will include informal remembrances of Mr. Hopkins and presentation of a memorial wreath. The featured speaker this year is Professor Stuart "Bill" Leslie, who is writing a history of the university.
Mr. Hopkins left $7 million in his will to establish a university and hospital in Baltimore that revolutionized higher education and health care and evolved into today's worldwide Johns Hopkins institutions. His gift was, at the time, the largest bequest in the nation's history. It was the foundation for all that the institutions named for him have done.
Mr. Hopkins' obituary, published in the Dec. 25, 1873, Baltimore Sun, is online. Also available online is the text of the Baltimore American's coverage of Mr. Hopkins' death, including a brief bulletin on Dec. 24, 1873, and an obituary published the following day.
WHEN: 10 a.m. Dec. 24, Christmas Eve day.
WHERE: Green Mount Cemetery: Enter Green Mount Cemetery's main gate at 1501 Greenmount Ave., about five blocks south of North Avenue; drive up the hill, park near the crest, and look for the group gathering to the right.
For more information, or to cover, contact jrosen@jhu.edu.
###
Johns Hopkins University news releases are available online, as is information for reporters. To arrange a video or audio interview with a Johns Hopkins expert, contact a media representative listed above or visit our studio web page. Find more Johns Hopkins stories on the Hub.