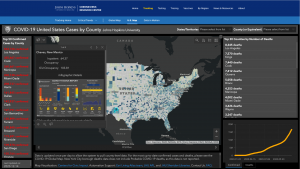 To offer perspective on how the nation's hospitals are managing the surge of COVID-19 patients, the Johns Hopkins University Coronavirus Resource Center is now tracking county-level hospital occupancy data, with fresh updates every day.
On the center's United States COVID-19 map, viewers can toggle to two new pages for daily updates on both overall hospital occupancy and ICU occupancy.
Both the ICU occupancy map and the map tracking in-patient occupancy display the most up-to-date information on hospital ICU occupancy rates in the U.S. The data is sourced from the Department of Health and Human Services (HHS).
On each map, the darker the county is shaded, the closer the county is to reaching hospital capacity.
When used in tandem with the U.S. map's county-level demographic data that includes the total number of hospital beds and ICU beds available per county, the new maps indicate the ability of local hospitals to manage local caseloads.
BACKGROUND: The Johns Hopkins Coronavirus Resource Center (CRC) is a continuously updated source of COVID-19 data and expert guidance. Experts aggregate and analyze the best data available on COVID-19—including cases, testing and contact tracing—to help the public, policymakers and healthcare professionals worldwide respond to the pandemic.
For more information, please contact Jill Rosen, jrosen@jhu.edu.
###
Johns Hopkins University news releases are available online, as is information for reporters. To arrange a video or audio interview with a Johns Hopkins expert, contact a media representative listed above or visit our studio web page. Find more Johns Hopkins stories on the Hub.