FOR IMMEDIATE RELEASE
Dec. 22, 2020
CONTACT: Jill Rosen
Cell: 443-547-8805
jrosen@jhu.edu jhunews@jhu.edu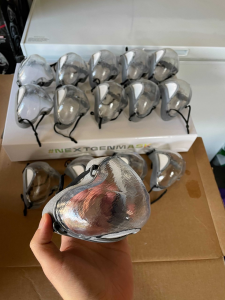 A Johns Hopkins University team of 24 undergraduate students that designed a clear, adaptable face mask has won $250,000 in a global challenge to design a better mask.
The XPRIZE Next-Gen Mask Challenge announced today that the Johns Hopkins team, Team Polair, has won the Future Forward Award in the challenge for people 24 and younger around the world.
Judges considered ingenuity, effectiveness, style and the ability to overcome common barriers.
"This has been an incredibly rewarding experience," said team captain Jerry Zhang. "I look forward to continuing our team's work to combat this pandemic. We're super excited to bring our mask to market."
Team Polair, is made up entirely of undergraduate biomedical engineering students. The team focused on adaptability, hoping to come up with a design that people would actually want to wear. They devised a magnetically attaching, modular mask with a soft silicone frame and customizable front attachments including a clear, anti-fogging front and an N95 front. Wearers can use either precut filters or create their own from stencils.
Team Polair members come from 14 states and four countries. The team feels like their many varied perspectives helped them to design a mask that could appeal to many different types of wearers.
More than 1,000 teams entered the contest. The mask designs for all of the finalists were tested to make sure they meet the same safety standards as surgical masks.
###
Johns Hopkins University news releases are available online, as is information for reporters. To arrange a video or audio interview with a Johns Hopkins expert, contact a media representative listed above or visit our studio web page. Find more Johns Hopkins stories on the Hub.