August 29, 2021
Kait Howard
Cell: 443-301-7993
kehoward@jhu.edu jhunews@jhu.edu
As the Gulf Coast braces for a potentially devastating Category 4 hurricane, Johns Hopkins University experts can discuss possible trajectories the storm can take, and what can be done to lessen the damage.
Available experts include: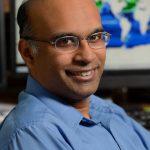 A climate modeler, Anand Gnanadesikan looks at the atmospheric and oceanic circulation of the tropics, including how changes in circulation can affect hurricane formation. He can discuss how hurricanes develop and what determines their path and intensity.
A professor in the Johns Hopkins Department of Earth & Planetary Sciences, Gnanadesikan previously spent over fifteen years in NOAA's Geophysical Fluid Dynamics Laboratory.
To request an expert, please contact Kait Howard, kehoward@jhu.edu.
###
Johns Hopkins University news releases are available online, as is information for reporters. To arrange an interview with a Johns Hopkins expert, contact a media representative listed above. Find more Johns Hopkins experts on the Experts Hub, and more Johns Hopkins stories on the Hub.