May 4, 2013
FOR IMMEDIATE RELEASE
CONTACT: Dennis O'Shea
dro@jhu.edu /cell 410-499-7460
Tracey Reeves
treeves@jhu.edu /cell 443-986-4053
 
RISING TO THE CHALLENGE: FACTS AT A GLANCE
Campaign formal name: Rising to the Challenge: The Johns Hopkins Campaign
Shorthand references: Rising to the Challenge; the campaign.
Duration: Quiet phase: Jan. 1, 2010-May 3, 2013. ($1.94 billion raised)
                 Public phase: May 4, 2013-June 30, 2017 (projected completion date)
Overall goal: $4.5 billion
Goal by institution:  Johns Hopkins Medicine, $2.4 billion. Johns Hopkins University (excluding School of Medicine, which is included in Johns Hopkins Medicine goal), $2.1 billion.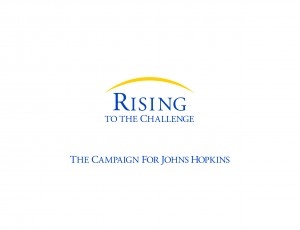 Goal by purpose: Research and program support, $2.25 billion, 50 percent. Faculty/professorships, $968.5 million, 22 percent. Financial aid, $753 million, 17 percent. Capital/facilities, $415.3 million, 9 percent. Unrestricted, $111 million, 2 percent. 
Major gifts during quiet phase:
Examples include:
— a $350 million commitment, announced in January 2013, from Michael R. Bloomberg, a 1964 engineering graduate and mayor of New York City.  (For student financial aid and 50 endowed professorships.
–an anonymous $20 million gift in September 2012 to support the new Science of Learning Institute, one of the campaign's five "signature initiatives."
Past campaigns:
The Johns Hopkins Campaign: Knowledge for the World:
–Dates of campaign: July 1, 2000 to Dec. 31, 2008
–Original goal: $2 billion (surpassed in 2005)
–Final goal: $3.2 billion (surpassed in 2008)
–Final total: $3.741 billion
—Summary: More than 250,000 donors created 92 professorships, generated 550 new scholarships and graduate fellowships, and modernized teaching, research and patient care facilities. Launched the Carey Business School and the Sidney Kimmel Comprehensive Cancer Center, endowed the deanship of the Whiting School of Engineering, added a new quadrangle to the Homewood campus, and provided millions of dollars in unrestricted support for the university and health system.
The Johns Hopkins Initiative:
–Dates of campaign: 1992-2000
–Original goal: $900 million (surpassed in 1998)
–Final goal: $1.2 billion (surpassed in 1999)
–Final total: $1.52 billion
—Summary: More than 100,000 donors added more than 460 endowed scholarships and fellowships, nearly doubling the existing total; endowed 130 professorships; endowed the deanships of the School of Medicine and the Krieger School of Arts and Sciences; built cancer research and clinical buildings; built the first standalone home for the School of Nursing; built a new arts center, recreation center and biomedical engineering building at Homewood.
Campaign for Johns Hopkins
–Dates of campaign: September 1984-February 1990
–Goal: $450 million
–Final total: $644 million
–Summary: $247.5 million, or 38 percent of the total, was raised for endowment or facilities.
Hopkins Hundreds
–Dates of campaign: 1973-1976
–Original goal: $100 million
–Final total: $109 million
–Summary: Created 24 endowed professorships and raised $17.5 million for a major rebuilding program at The Johns Hopkins Hospital.
 ###