October 11, 2018
CONTACT: Jill Rosen
Office: 443-997-9906 / Cell: 443-547-8805
jrosen@jhu.edu @JHUmediareps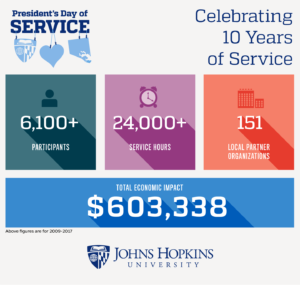 Planting, weeding and making lunches for the homeless. These are just some of the ways more than 1,200 Johns Hopkins University students, faculty and staff will try to help the city on Saturday, Oct. 13, as they volunteer en masse at nearly 40 Baltimore non-profit organizations.
The university's annual President's Day of Service, now in its 10th year, will kick off at 10 a.m. at the Ralph S. O'Connor Recreation Center on the Homewood campus. President Ronald J. Daniels will address participants who will then fan out to volunteer across the city.
Volunteer projects will run roughly from noon to 3 p.m., followed by a Post-Service Reflection Reception. During the reception, there will be a performance by the DewMore Baltimore Youth Poetry Team. Students will then engage in a facilitated conversation, reflecting on their experience from the day and their plans for future engagement.
Some of the bigger projects, where large groups of volunteers are expected, include:
First Fruits Farm (2025 Freeland Rd.): First Fruits Farm is a non-profit where gleaned produce is donated to help feed those in need in Baltimore, Maryland and Pennsylvania.  Volunteer activities will include harvesting crops and preparing it to be transported to distribution partners.
Chinquapin Park Improvement Association (5908 Northwood Dr.): The Chinquapin Park Improvement Association sponsors park play and cleanup days throughout the year. Volunteers will be participating in a large-scale lot cleanup.
People's Homesteading Group (2114 Greenmount Ave.): People's Homesteading Group is a non-profit building contractor and affordable housing developer in the Barclay and Midway neighborhoods of Central Baltimore. Volunteers will be prepping a property for renovation and assisting with a community garden project.
Second Chance (1700 Ridgely St.): Second Chance deconstructs buildings and homes, recycles and salvages usable materials, and makes them available to the public. With the revenue generated, they provide job training and workforce development for those with obstacles to employment. Volunteers will be assisting with set-up for a fundraising event.
Thomas Johnson Elementary School (100 E. Heath St.): Volunteers will help run the Fall Festival, which raises money to support the school.
On Saturday, Oct. 6, about 125 more students, staff, faculty and alumni from the university's East Baltimore medical campus, including the schools of Medicine, Nursing, and Public Health, volunteered at eight community sites.
The President's Day of Service is organized by the Johns Hopkins Center for Social Concern and funded by the Hopkins Parents Fund. The East Baltimore initiative is organized by SOURCE (Student Outreach Resource Center).
To cover the event, please contact Jill Rosen, jrosen@jhu.edu, 443-997-9906 or (cell) 443-547-8805.
On-site media contact on Saturday: Kelly Milo, cell: (908) 581-0777.
###
Johns Hopkins University news releases are available online, as is information for reporters. To arrange a video or audio interview with a Johns Hopkins expert, contact a media representative listed above or visit our studio web page. Find more Johns Hopkins stories on the Hub.