Johns Hopkins Mascot Unveils New Look
Feb. 16, 2019
FOR IMMEDIATE RELEASE
CONTACT: Karen Lancaster
Cell: 240-370-9319
klancaster@jhu.edu @JHUmediareps
The Johns Hopkins Blue Jay mascot debuted a new look during a dramatic reveal today at halftime of the men's lacrosse home opener.  With a nod to Hopkins' excellence in the fields of science and health, "Jay's" makeover reflects his efforts to improve his personal fitness while also exhibiting more scientifically and anatomically correct attributes for his species.
In addition to a more streamlined physique, a chromatologically accurate color adjustment and improved ventilation to optimize respiratory function and body temperature regulation, Jay no longer has teeth, in alignment with his ornithological brethren. His feet are also now more proportional to his body (improving his agility), and his lower legs do not have feathers or fur, as birds do not have follicles in their lower extremities.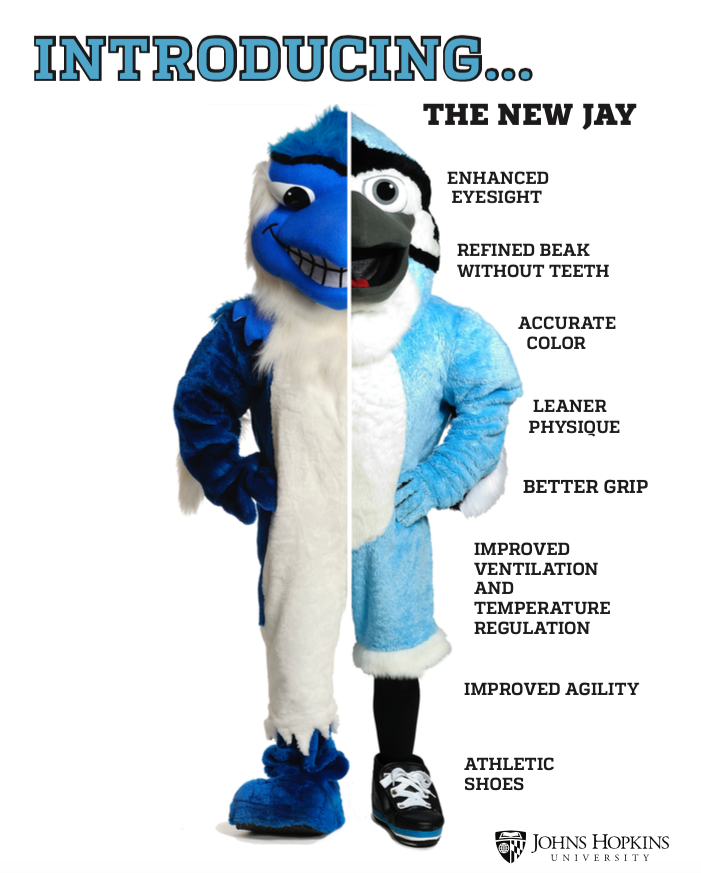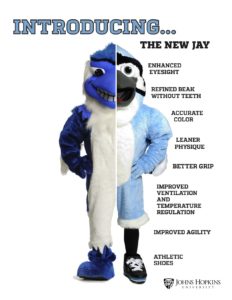 Jay's changes, the first to the mascot since 2013, duplicate the features of the JHU Athletics logo.
"We love Jay's fresh new style, and are proud to have him represent the Hopkins spirit at athletic events as well as out in the community," said Alanna W. Shanahan, director of Athletics & Recreation at Johns Hopkins.
Jay's transformation was the result of a committed, disciplined regimen which began in July 2017.  Under the guidance of personal trainer and university senior designer Kenny Carter, Jay is delighted to debut his new look.
Jay pecked on a keyboard: "I am so excited about my new-and-improved self, and am honored to represent Johns Hopkins and Blue Jays everywhere.  I extend a wing-bump to Kenny as well as to Meg Magagna in the JHU Office of Communications and Kelsie Gorey in Athletics for their unwavering support during my transformative personal journey."
###
Johns Hopkins University news releases are available online, as is information for reporters. To arrange a video or audio interview with a Johns Hopkins expert, contact a media representative listed above or visit our studio web page. Find more Johns Hopkins stories on the Hub.