Feb. 21, 2019
CONTACT: Jill Rosen
Office: 443-997-9906
Cell: 443-547-8805
jrosen@jhu.edu @JHUmediareps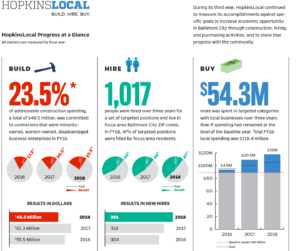 Johns Hopkins University and Health System announced today that the institution has surpassed its three-year goals for hiring, purchasing and construction contracting.
Through the HopkinsLocal economic initiative that aims to bolster Baltimore though local building, hiring and buying, the University and Medical entities have further cemented Johns Hopkins' legacy as an anchor institution for the city's neighborhoods and families.
Through HopkinsLocal, the university and health system:
Hired residents living in distressed areas of the city, specifically in 15 ZIP codes, for 47 percent of targeted positions in fiscal year 2018, surpassing the original goal of 40 percent. The 381 HopkinsLocal hires in 2018 bring the three-year total to 1,017.
Spent $29 million more with city vendors in fiscal year 2018, surpassing the goal of spending $15 million more. Over three years, spending increased $54 million.
Committed 23.5 percent of construction spending to minority-owned, women-owned, and disadvantaged businesses in fiscal year 2018, or $48.5 million. The original goal was 19 percent of construction contracts would go to these businesses.
Although HopkinsLocal is just one of many endeavors that reflect Johns Hopkins' commitment to Baltimore, these results demonstrate the impact one institution can make by investing in the city's people and businesses.
"The impact of HopkinsLocal has surpassed our hopes and we are thrilled by the difference it is making in Baltimore and in our neighbors' lives and on their businesses, as well as on our institution," says Johns Hopkins University President Ron Daniels. "HopkinsLocal reflects our strong belief that real, sustained progress demands clear goals and public accountability in order to deliver on our commitment to invest in our neighbors and in the promise of our great city."
Johns Hopkins Health System President Kevin Sowers says the institution has learned a great deal from HopkinsLocal efforts thus far. "We are prepared to dig more deeply into the approaches that make a difference," he says. "Things like better recruitment strategies, coaching and support that help new employees thrive, ensuring that companies that do business with us are able to hire and invest in Baltimore City, and supporting contractors so they can be ready to take on more of our construction projects."
HopkinsLocal was formally launched in 2015 to programmatically promote and measure economic growth and inclusion in Baltimore by encouraging the university and health system to hire more city residents, buy more locally generated products, and support women-owned and minority-owned design and construction firms.
Johns Hopkins surpassed its goals, and since inception has hired 1,017 people from targeted city neighborhoods. Meanwhile, during the same three-year period, the university and health system hired 402 citizens returning from incarceration. Kylie Patterson, director of economic inclusion, said the institution will now help these employees advance beyond entry-level positions and build lasting careers.
Niyo Rukundo, who lives in midtown Baltimore, has worked for just over a year as an administrative coordinator in the university's Office of Student Life. Her sister, who also works for Johns Hopkins, urged her to apply when Rukundo's previous employer went out of business.
"Working at Johns Hopkins is such a great opportunity – I love the people I work with and there seems to be a lot of opportunity for upward movement," Rukundo says, adding that HopkinsLocal is "a beautiful idea" for Baltimore. "I like the idea of trying to grow the community in a positive way."
###
Johns Hopkins University news releases are available online, as is information for reporters. To arrange a video or audio interview with a Johns Hopkins expert, contact a media representative listed above or visit our studio web page. Find more Johns Hopkins stories on the Hub.