Oct. 15, 2020
CONTACT: Doug Donovan
Cell: 443-462-2947
dougdonovan@jhu.edu
@dougdonovan
Johns Hopkins University computer scientist Anton Dahbura is available to speak to the media about a tool to simulate how COVID-19 can spread through communities – a method the team recently applied to model multiple scenarios based on the White House Rose Garden event last month.
The simulator, created by Dahbura's students, calculates the spread of the virus as it moves first through population zones such as cities and towns, then to public facilities in that area such as restaurants, gyms, housing c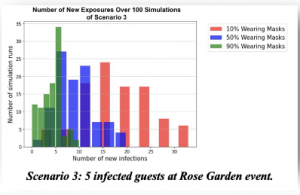 lusters and stores. It then uses aggregated cell-phone geolocation data to determine movement patterns unique to each location based on how closely people live and work to each other, how often they use public transportation and personal vehicles and the likelihood of physical contact in those situations.
The team from the Malone Center for Engineering in Healthcare ran 400 simulations across four different scenarios of the Sept. 26 outdoor event at the White House that was attended by more than 200 people who were mostly not wearing masks, not maintaining proper social distance and mingling for more than an hour.
Assuming three guests at the event carried the virus, they found:
There was a 75% chance of at least nine new infected people and a 25% chance they would infect 19 to 25 others, with a median of 14 new infections.
The number of new infections dropped to a median of three when the simulation assumed 90% of the participants were wearing masks and social distancing.
"We believe that our simulator provides some guidelines for what can be expected from these kinds of events," Dahbura said. "In the future we may develop an online calculator so that the public can enter their own parameters and see the results."
To speak with Dahbura, please contact Doug Donovan at 443-462-2947 or dougdonovan@jhu.edu.
###
Johns Hopkins University news releases are available online, as is information for reporters. To arrange a video or audio interview with a Johns Hopkins expert, contact a media representative listed above or visit our studio web page. Find more Johns Hopkins stories on the Hub.