August 30, 2021
Kait Howard
Cell: 443-301-7993
kehoward@jhu.edu jhunews@jhu.edu
As Louisiana officials assess the destruction caused by Hurricane Ida, Johns Hopkins University experts can discuss anticipated damage, the effectiveness of the levee system, and next steps for search-and-rescue efforts and restoring power.
Available experts include: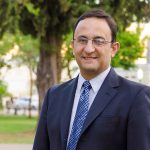 Gonzalo Pita is an associate scientist and director of the MSE in Systems Engineering at the Johns Hopkins Whiting School of Engineering, and a senior consultant at the World Bank. His research centers on natural disaster risk modeling, with a focus on hazard and damage modeling and mitigation for hurricanes, seismic events, and floods.
"The damage from Ida has been reported as catastrophic, with damage to buildings, and some reports of partially or totally collapsed apartment buildings and power lines, as well as extensive tree damage," said Pita. "It could take days or weeks to restore power to those who've lost it."
"That said, current signs indicate that the effects of Ida will not be as severe as those of Katrina," said Pita. "Since then, more than 10 billion dollars were invested to improve the levee system and other flood protection works. As of now, there are reports that for the most part levees have not failed."
Pita can also discuss how accurate weather models enabled officials to prepare for the hurricane, and how disaster risk modeling could allow them to determine the extent of damage quickly.
Pita has conducted studies on natural disaster risk assessment and mitigation in the United States, the Caribbean, and Latin America, and is currently doing research on hurricane hazards, fracking, and the effects of river flooding on vulnerable populations.
To request an expert, please contact Kait Howard, kehoward@jhu.edu.
###
Johns Hopkins University news releases are available online, as is information for reporters. To arrange an interview with a Johns Hopkins expert, contact a media representative listed above. Find more Johns Hopkins experts on the Experts Hub, and more Johns Hopkins stories on the Hub.