Event will kick off yearlong focus on health and wellness
CONTACT: Kait Howard
Cell: 443-301-7993
kehoward@jhu.edu
Jill Rosen
Cell: 443-547-8805
jrosen@jhu.edu
Baltimore Mayor Brandon Scott and Johns Hopkins University President Ron Daniels will lace up their running shoes Monday for the grand opening of the Henderson-Hopkins school's new track.
Completed this summer, the track and field will encourage students to be active during recess and provide high-quality facilities for after-school programming, including track, football, and soccer. The facility will also help the school promote student and community health.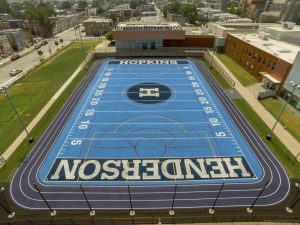 At the event, Mayor Scott, President Daniels, Henderson-Hopkins students, and other guests and elected officials will run two ceremonial laps to inaugurate the field and to kick off a yearlong focus on exercise, health, and wellness.
Funded by Johns Hopkins through a combination of donor and institutional funds —at a cost of over $1 million—the 166-meter track and 60-yard sports field will be open to the public during non-school hours to create outdoor fitness opportunities for the East Baltimore neighborhood where recreation facilities are limited.
The grand opening celebration will be hosted by Johns Hopkins Vice President    for Economic Development Alicia Wilson and Mebaa Braha, aka DJ Mebaa World Peace, will provide music. The event will also feature a health-and-wellness fair featuring local vendors specializing in fitness, nutrition, mental health, and extracurricular activities for kids. As part of the health-and-wellness fair, players from Johns Hopkins Football and Johns Hopkins Men's and Women's Lacrosse teams will provide clinics and demonstrations for Henderson-Hopkins students, and the Johns Hopkins Medicine Mobile Vaccination Truck will be on-site to provide COVID-19 vaccinations for the community.
Confirmed vendors include Command Health and Wellness, I Am Mentality, Land of Kush, MissionFit, the Maryland Food Bank, Pipeline Soccer, Shareef's Grill, and the World Central Kitchen.
Who: Mayor Brandon Scott
Johns Hopkins University President Ron Daniels
Johns Hopkins School of Education Dean Christopher C. Morphew
Henderson-Hopkins Principal Peter Kannam
Henderson-Hopkins students, parents, and community
When: Monday, Sept. 13, 4-6 p.m.
Where: Field Address 942 N. Patterson Park Ave, Baltimore, MD 21205
Please note that masks are required at this event.
About Henderson-Hopkins: Elmer A. Henderson: A Johns Hopkins Partnership School ("Henderson-Hopkins") serves approximately 600 students in grades pre-Kindergarten through 8th grade. Henderson-Hopkins is a Baltimore City Public School operated by the Johns Hopkins University School of Education in partnership with Morgan State University.
Media interested in covering the event should RSVP to Kait Howard, kehoward@jhu.edu, or Jill Rosen, jrosen@jhu.edu.
###
Johns Hopkins University news releases are available online, as is information for reporters. To arrange an interview with a Johns Hopkins expert, contact a media representative listed above. Find more Johns Hopkins experts on the Experts Hub, and more Johns Hopkins stories on the Hub.